Over the past three years, many Catholic schools and faith formation classes have chosen to host a retreat at Our Lady of the Fields Camp & Retreat Center that focuses on the Sacrament of Confirmation. One of the many goals of these retreats is to build a strong bond between the young people who are preparing for the year-long process to be confirmed.
Any faith formation leader can tell you that a spirit of unity among the students is absolutely essential to the overall group experience.
This is where a retreat at Our Lady of the Fields really stands out.
Given our status as a summer camp for kids, we have amazing facilities that will provide your youth with opportunities to enjoy our beautiful grounds, scale a wooden climbing tower, ride a 600' dual zip line, bounce around on our many inflatable aqua trampolines and water slides, kayak and canoe on our lake, ride on our brand new luxury pontoon boat, and much more. All of these activities promote fun, faith, and fellowship.
We also have a beautiful church on our grounds where the Blessed Sacrament is always present. Many groups arrange for their parish priest or school chaplain to celebrate Mass during the retreat, and several participate in Adoration.
The staff of Our Lady of the Fields is available to be as involved in your retreat as much or as little as you like. We can provide planning and facilitating services or you can take the lead yourselves. It's up to you and your group's specific needs.
Lastly, OLF has a full commercial kitchen that is capable of feeding 175 people inside and another 140 people on our outside deck that overlooks Euler Lake. We can provide high-quality (and well-reviewed!) meals for your group and also attend to any special dietary needs.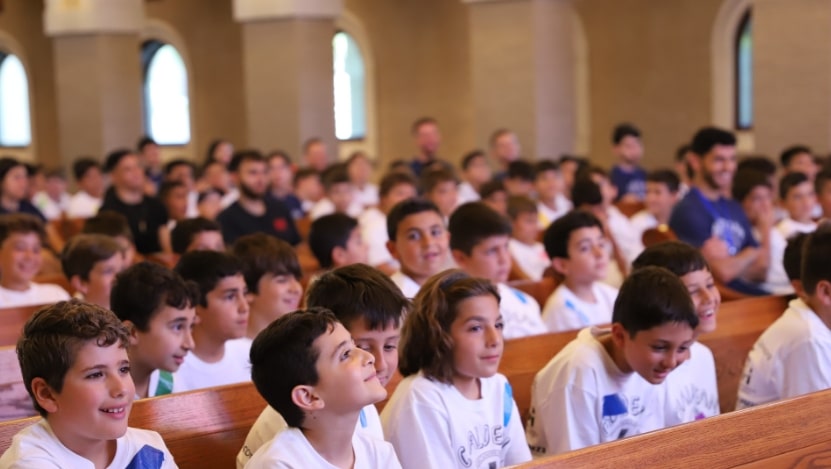 Please call us at (248) 379-0943 to talk about planning your next Confirmation retreat! We can't wait to help your youth grow closer to Christ and closer to each other!
fire up the fun and fellowship